Ifield Community College is committed to safeguarding, promoting the welfare and safety of all students. We want to make sure all our students are safe in school, at home, on line and in the community. We strive to ensure that consistent and effective safeguarding procedures are in place to support families, students and staff at school. Our staff have an important role, working together with parents and guardians, to ensure that our students are safe and secure and to promote their personal safety and wellbeing.
Safeguarding Team
Click to view If in Doubt DO Information Sheet.
The Designated member of staff (DMS) is Kevin Laundon, AHT Behaviour and Safety. The Progress Leaders are also trained in Child Protection.
School Nurse
ICC is covered by the Healthy Child Programme service provided by Sussex Community NHS Foundation Trust. The School Nurse is able to support students, staff and parents with concerns about children and young people's physical and emotional wellbeing in or out of school. It is a confidential service. If you would like to speak to the School Nurse, you can contact them directly at Crawley Hospital on 01293 600300 ext 3266 /1723 or via your child's Progress Leader, pastoral support or the medical room.
The School Nursing service also runs 'Chat Health', a text messaging service for young people aged 11-19. This service is manned 9-4:30 Monday to Friday on a rota by Specialist Community Public Health Nurses (School Nurses). We receive a variety of queries ranging from physical to mental health e.g. relationships, bullying, mental health, self-harm, healthy eating, drugs, alcohol, smoking, safer sex etc. The number for this is 07480 635424 and there are posters and cards in school advertising this.
Healthy U Drop In @Crawley Find it Out Centre
Would you like health information, advice and guidance? – School Nurses from the Crawley Healthy Child Programme team will be at the Crawley Find It Out Centre, Centenary House, Woodfield Road RH10 8GP every Monday during every school holiday between 12 and 4pm.You can either "drop in" and see us or make an appointment on 01293 843327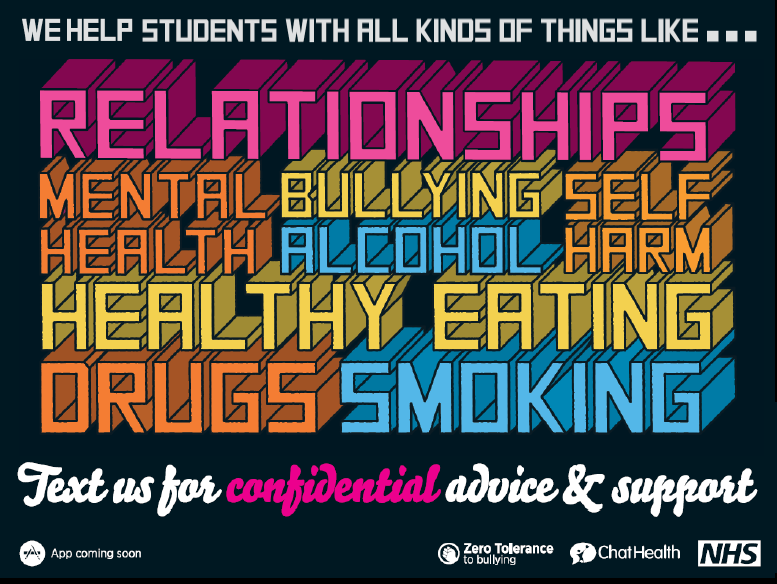 Educational Psychologist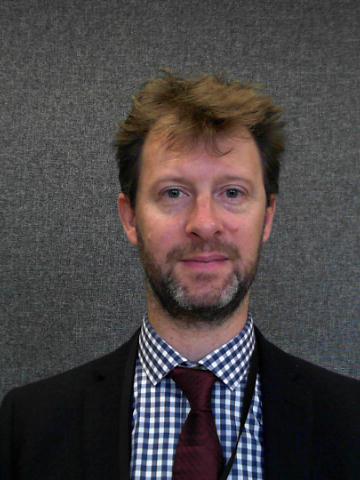 Mr Xavier Eloquin is a chartered Child and Educational Psychologist and associate fellow of the British Psychological Society. He is a certified Human Givens Psychotherapist and an affiliate of OPUS (an Organisation Promoting an Understanding of Society). He is passionate about the power psychology has to enrich the lives of children, teenagers, parents and teachers. He worked as an Educational Psychologist for the Local Authority for nine years and now has an independent practice supporting a number of schools directly.
Xavier has worked with children and young people with a range of difficulties (and abilities) in a wide number of settings. These include:
Social, emotional and behavioural difficulties – in mainstream and specialist settings
Moderate, severe and profound and multiple learning difficulties
Autistic spectrum disorders and other social communication difficulties
A range of settings including mainstream schools, special schools, residential schools and care homes.
He has also been a Consultant Psychologist to a Forest School and co-wrote a chapter on the positive effect Forest Schools have on emotional development.
Xavier has also done additional training in a range of areas, including Crisis Psychology and has supported schools and care homes during and after critical incidents and sad events. A growing interest is in the organisational dynamics of schools and he has consulted to Head Teachers, Senior Management Teams and other groups, exploring relational dynamics and how to build more effective and cohesive teams. He has worked with the Supreme Educational Council, Qatar, training SENCOs on aspects of Special Educational Needs and how to support colleagues. With a colleague at the Tavistock Clinic, London, he runs the "Managing Organisational Change in Schools" workshop, which supports leaders and managers in making sense of, and planning, culture changes in schools.
Specialist Occupational Therapist / Mental Health & Wellbeing Consultant
Dr Rob Kirkwood works as a specialist occupational therapist and is a member of the British Association of Occupational Therapists (BOAT), the Royal College of Occupational Therapists (RCOT) and the Sensory Integration Network UK and Ireland. Rob is registered to practice through the Health and Care Professions Council (HCPC).
For over 10 years, Rob has been specialising in the mental health and emotional well-being needs of children, young people and their families; in a variety of settings including schools. As well as mental health and emotional wellbeing, Rob's specific areas of interest also include: neurodevelopment, sensory processing and attachment. Rob continues to work in the NHS as well as in independent practice, giving consultation to schools and interventions to students, undertaking neurodevelopmental and paediatric assessments, and working with individual clients and families.
Rob gained a Professional Doctorate in Occupational Therapy in 2013 for participatory action research undertaken with young people, exploring their lived experience of hearing impairment. Rob has delivered training across numerous educational settings including schools and universities, has presented his research at conferences both nationally and internationally and has more recently co-edited a text book exploring diverse roles for occupational therapists.
Fire and Safeguarding Guidance for Adults Visiting or Working with us
What is an Early Help Plan?
The Early Help Plan (EHP) is the common process in West Sussex for supporting children, young people and families with additional needs through early identification, swift intervention and a planned, coordinated response. The aim is to consider the needs of the child or young person in four key areas:
Health and Well-being
Development needs, educational attainment and achievement
Parenting/caring
Family and Community
The intention is for all children and young people, irrespective of their circumstances, to have the best start in life, to grow up safe, stable and healthy, to fulfill their potential and make a contribution to their community.
Single Assessment
The Early Help Plan is the first part of the process that aims to empower children, young people and their families and provide a timely, seamless service. The Single Assessment supports families through from early help to escalating complex and urgent needs that require a statutory response from children's social care (See West Sussex LSCB Multi – Agency Threshold Guidance).
How Does the Process Work?
The practitioner who identifies the needs gains consent from the young person, parent or carer to undertake an assessment, following which he or she coordinates an Early Help Plan and initiates, if appropriate, a Team Around the Child and Family (TAC/F) meeting.
The purpose of the TAC/F meeting is to bring together practitioners with the appropriate skills to meet the identified needs of the child and develop a support plan. The parents and practitioners concerned will agree the most appropriate person to undertake the Lead Professional role. Goals will be identified and regular reviews undertaken, with the focus on a child-centred approach, positive engagement with the family, increased community involvement and collaboration between agencies.
Early Help Record and Plan Documents
The Early Help Record and Plan have been updated from feedback received from practitioners to make it more user friendly.
The information the family provide will be passed on to the relevant professionals that can help. They will work together to provide the support the child/family needs. Only professionals who need to know about the family will share the child's information and only when we have consent to do so. However, should a child or other person be considered to be at risk of significant harm then professionals have a duty of care to share the relevant information to the required services.
Ifield Community College has policies and procedures in place to deal effectively with child protection and safeguarding issues, which include tackling radicalisation and extremism, together with recording and monitoring processes. All our staff have received Prevent training. All staff undertake relevant safeguarding training when they start at the school and receive updates as appropriate. The training is monitored and comprehensive records kept by the DMS.
ICC Safeguarding Policy can be located under our Policies
Safeguarding Guidance for Schools
Keeping Children Safe in Education 2018
All concerns are passed through members of staff who are trained as 'Designated Child Protection Officers' in school in compliance with the HM 'sharing of information' guidance March 2015. Staff are required to report any causes of concern to the school safeguarding team. Referrals are logged and monitored to make sure that they are followed up appropriately.
To promote a safe environment for students, Ifield Community College employs a strict selection and recruitment policy which includes all statutory checks on staff and regular volunteers including Enhanced DBS (disclosure and barring service) checks.
If you have any concerns about your child, another student or a member of staff at Ifield Community College please contact the Designated Safeguarding Member of staff(DMS) who will be able to provide you with the best advice and help using the appropriate degree of confidentiality.
Keeping children safe in education 2018
https://assets.publishing.service.gov.uk/government/uploads/system/uploads/attachment_data/file/737289/Keeping_Children_Safe_in_Education_Sept_2018.pdf
Working together in to safeguard children
https://assets.publishing.service.gov.uk/government/uploads/system/uploads/attachment_data/file/729914/Working_Together_to_Safeguard_Children-2018.pdf