Any updates and letters sent to parents relating to the Coronavirus will be added to this page.
Monday 23rd March - During this period of partial closure this school site continues to be open for provision for vulnerable pupils and children of key workers. Irrespective of any partial closure, the safeguarding of all our children remains our top priority. At this time, our school will continue as normal in supporting our vulnerable children and if anyone has any questions regarding this they are asked to make contact with Rob Corbett, Headteacher on email rct@ifieldcc.co.uk. Please contact the school if you have any queries on 01293 420500 between 8am and 3pm.
Our school front office and switchboard are open from 8am to 3pm daily. Staff can be emailed directly, for staff email addresses click here, alternatively you may email the school using office@ifieldcc.co.uk
Click on picture to view Mr Corbett's interview with Sky News.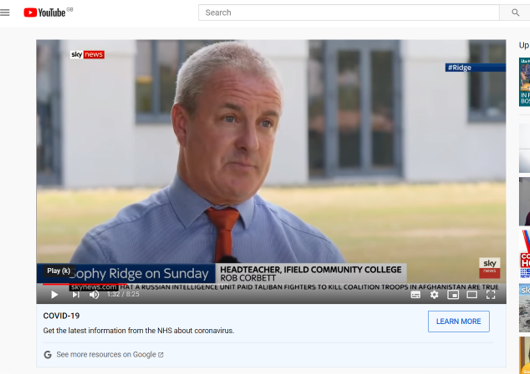 Click on picture to view ICC Lockdown 2020 video.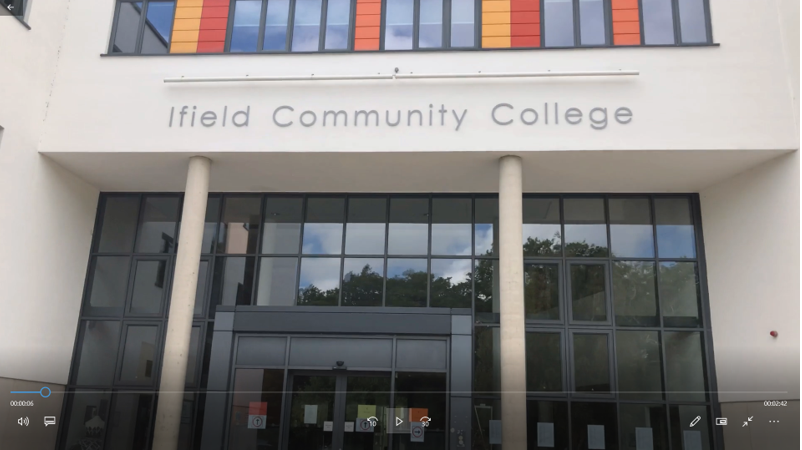 Performing Arts Team say a little hello, click here to view
Exam Results Days
A Level and all other Level 3 qualifications - Thursday 13th August, 9 - 11am
GCSE and all other Level 2 qualifications - Thursday 20th August, 9 - 11am
Should students be unable to collect their results in person but wish to nominate someone to collect on their behalf they will need to write a note which names the person that they want to collect their results. The note must be signed and dated by the student and the person who collects the results must bring also bring a form of photographic ID to identify themselves. Results not collected will be sent to students by 2nd class post. If you have any other questions, please email Mr Hambling, pha@ifieldcc.co.uk who will be able to assist.
Re-opening Dates -
Thursday 3rd September - INSET Day / Sixth Form Enrolment
Friday 4th September - Year 7 start school 08:15am / Sixth Form Enrolment
Monday 7th September - Years 8 to 11 return to school
Update added Wednesday 15th July -
To view ICC risk assessment for re-opening in September, please click here
Update added Tuesday 14th July -
Year 7, 8 and 9 Locker Info: Because of the changes that we are needing to make to the school to keep everyone healthy, students will not be able to use their lockers for the time being. We have arranged the following days and times for students to come in collect any of their belongings.
Year 7 - Wednesday 15th July 12:30 - 1:30
Year 8 - Thursday 16th July 12:30 - 1:30
Year 9 - Friday 17th July 12:30 - 1:30
If the lockers are not emptied by the student, the site team will do so and bag the contents, but this will not be available to collect until September.
If you have any queries, please call the school on 01293 420500 or email office@ifieldcc.co.uk
Update added Friday 10th July -
Guides on how we plan to open in September can be found below by clicking on the year group you will be in next year. A letter has been sent to parents today that contain links to the following guides.
Year 7 Guide and Letter
Letter to all other year groups ( only change is the you tube link)
Update added Monday 6th July -
Year 6 into Year 7 Virtual welcome has gone live, click here to view virtual video and welcomes.
Sixth Form Virtual Induction has gone live, click here to view introductions.
Update added Monday 29th June -
Sixth Form Virtual Induction Day - Launch Date - Monday 6th July
Update added Friday 26th June -
Letter from Sussex Police has been sent to parents of Year 11 & 13 students regarding end of year prom gatherings. To view letter, click here.
Update added Tuesday 23rd June -
Letter to parents regarding emergency childcare in school, click here to view
Sixth Form Virtual Induction Day coming soon! Keep checking the website for more detail
Unfortunately, due to current circumstances we are unable to hold our usual Induction day for new and returning Sixth Form students. However, we are preparing a virtual event that means you will be able to access information about different courses and get to know subject teachers online. This will give you some insight into what to expect on our return and to start thinking about any preparatory work you can be doing over the summer. Click here to see the link where these will be added.
Update added on Monday 15th June -
Year 10 to return to school from the 22nd June, click to view each - letter, guide and group lists
Update added on Friday 12th June -
Year 10 letter sent to parents - Click here to view. The Survey is only for year 10 parents.
Update added on Thursday 11th June -
Free School Meals Update: The next despatch of ecodes are due to emailed this weekend. However, we have been informed that Edenred will be carrying out maintenance work to improve their services from 8am, Saturday 13th June until 7pm Sunday 14th June. This will mean you will not be able to access the website during this time. Apologies for any inconvenience this may cause.
Update added on Tuesday 2nd June -
A letter has been sent home to parents with students in Year 10 & 12, click here to view.
Mr Corbett has emailed Year 10 and 12 students directly to their school email accounts.
A letter has been sent home to parents with students in Years 7,8 and 9, click here to view.
Update added on Friday 29th May -
Free school meals vouchers are now being issued to cover the May half term break.
A letter from Mrs Kansara, Head of Computer Science and ICT has been emailed home today. Click here to view letter.
Update added on Tuesday 26th May -
A survey has emailed to parents of Year 10 students, please see email for link.
A letter has been emailed to parents of Year 7-10 and Year 12 regarding the how we will conduct a review of your child's remote learning progress. Click here to view letter.
Update added on Wednesday 21st May -
Year 6 into 7 Transition Programme - Cancelled, please see below to view information and letter.
A letter has been sent home with a student guide to using Microsoft teams. To view click on letter and student guide.
Update added on Tuesday 19th May -
A letter has been emailed home today from Mr Corbett, Headteacher regarding end of term. Attached to this will also be a letter from Paul Wagstaff, Director of Education. To see letters, please see below PDFs dated 2020-0
Updates added Tuesday 22nd April -
1. Support available for students studying at home
To support our students who are being home schooled we have put together a package of remote support with our staff. If you or your child are having difficulties with the work set and would like some support, please email your question TASupport@ifieldcc.co.uk
2. Please click here or see below PDF for West Sussex Autism and Social Communication Team - Working at home your child.
3. Letter sent home today, Click on each of following to view Letter, June Calendar, July Calendar
France Trip, 30th June to 3rd July 2020
The government have banned travel to France for school parties for the moment. We have no idea, as yet, if this covers the period of the French trip on the 1st July. We await further advice. If it is prevented, we can recoup the money paid through insurance but we are not in a position to do that currently.
Year 6 in to 7 Transition Information
Year 6 in 7 Transition Programme - as we are following following government guidance, it has meant that we are unable to offer Year 6 students Transition programme. A letter has been sent via local primary schools to send home to Year 6 students. There have a been a few letters that have been sent directly to parents.
Click here to view a copy of the letter.
We are beginning to add information and updates to our Year 6 into 7 page, click here to view
To all Parents and Carers of students joining ICC in Y7 September 2020 - Our original deadline of 27 March for the return of your admission forms is going to be difficult for some people, and we don't want anyone to take unnecessary risks trying to meet the deadline. We will be happy to receive your forms whenever you are able to post them or once the situations is more normal, you can drop them into our reception. The most important thing at the present is obviously to stay at home and not run unnecessary errands.
Free School Meals
Do you think your child is entitled to receive free school meals? Click here to view page for information and links to apply.
Click here to view the parent/carer user guide to using your Ecodes
Edenred guide to ecodes not working:
The eCode isn't working when I try to redeem it
You may have experienced some slow running of the www.freeschoolmeals.co.uk website on 27th/28th April due to an identified issue with the system.
This also means that many people were experiencing 'Invalid eCode' error messages.
Anyone trying to redeem an eCode received on 27th and 28th April and receiving error messages can now try again. For persistent eCode errors, please refer to the troubleshooting guidance below. We sincerely apologise for any inconvenience caused.
If the error persists, please follow the steps below:
You may have entered the incorrect eCode. Please try to enter your eCode again. If your eCode is still not accepted, please delete the browsing history on your device - as your device may be storing the incorrect eCode in its memory.
If you received the eCode directly from your school by post:
All eCodes should be 16 digits long. If your eCode has a different number of digits, you can query this your local school administrator and ask if the eCode is correct.
Your school administrator can also check the status of your eCode, including the eCode's 'Activation date'. eCodes will not work until on or after this date.
If you have followed all of the steps above and you still cannot redeem your eCode, please email freeschoolmealsparentscarers@edenred.com for further support.
if you receive an error message when trying to redeem your eCode, you may have entered the incorrect code. Please try to enter your code again. If your code is still not accepted, please delete the browsing history on your device – as your device may be storing the incorrect code in its memory.
If you are re-entering your code because the system had frozen or timed-out, and you are getting an invalid code message, this is because the redemption was successful, and you should receive your e-Gift card within 48 hours. Please check you inbox, junk mail and spam mail folders, as these can be delivered into here.
I haven't received my e-Code
Please ask your school administrator to check the order in the first instance.
Please ask the school administrator to confirm the correct email address was entered for your eCode order. If the incorrect email address was used, then a new order will need to be created
If the order status is fulfilled, then the eCode will be delivered within 48 hours. If it hasn't been received in this timeframe, then please check your devices email junk or trash folder. The eCode email will be sent from noreply@edenred.co.uk or hello@email.edenred.co.uk.
I have received my e-Code, but the queue in the redemption website waiting room looks very long, how long until I can access the website?
Due to exceptional demand, we have implemented a queuing system on the ordering website. This is to control the amount of traffic on the website at any one time in order to improve the user experience for everyone and speed up the voucher redemption process once past the queue.
Please note it can take up to an hour to enter the website, but this can vary during peak and off-peak hours. For a shorter queuing time, we recommend trying outside of peak hours or days, which is between 10am and 5pm, and on Mondays.
I haven't received my order confirmation email or eGift card
Our e-Gift Card delivery system is currently experiencing high volumes of traffic and as such it is taking longer to process and deliver your e-Gift Card. We anticipate the e-Gift Card will be delivered to you within 48 hours.
I'm concerned about the 1-month eCode expiry period
As of 23rd April, we increased the expiry date on eCodes to four months, and this change was retrospectively applied to all live and pending eCodes.
My eGift card isn't working in-store
Please check that you are not reusing an eGift card that you have already spent. Once you have spent the full value of the eGift card, it will expire and cannot be used again. You will receive a new eGift card when you redeem your next eCode.
I can't see the barcode in the eGift card email
This is because some email inbox providers automatically switch off the downloading of images for new emails. You should see a prompt to 'Display images' or 'Download full message' to see the barcode.
Please also note, that some retailers require you to click on a link in the email to see the barcode in an internet browser instead.
We recommend downloading your eGift cards before you leave the house to do your shopping, or whilst connected to WiFi in case of internet connectivity problems in-store.
Please see the parents FAQ PDF below for other information dated 2nd April.
Cancelled or Postponed until further notice
Yr9 booster Vaccinations - postponed to the new academic year
HPV Vaccinations -postponed to the new academic year
Duke of Edinburgh award has now been cancelled.
Year 11 Prom - It is unlikely that prom will be able to go ahead as planned. We will make sure that there is a celebration event for Y11 when we return to school.
Progress Review Day cancelled
Sports Day cancelled
IBacc Reward trips cancelled
Sponsored Walk cancelled
Student Resources
In light of ongoing emerging situations, we have sent the following information to student's school email addresses:
Online resources have advised that additional servers have been added to cope with high volume of traffic accessing these sites daily.
Microsoft Teams
Doddle:
1. Doddle usernames and login details. https://www.doddlelearn.co.uk/app/login (log in portal can also be located at the bottom of the school website page).
Once logged on, students must change their password to something memorable. Please can we ask you encourage your child to logon to their school email as some work as been set using Doddle.

2. Support and resources (PDF version), further support can be found on our school website - http://www.ifieldcc.w-sussex.sch.uk/page/?title=Useful+Links&pid=72

3. Home learning resources. (PDF version).

ICC students have a Microsoft365 account that will entitle them to an email account and use the latest versions of Word, Excel, Outlook, Powerpoint and other Microsoft office programmes.
Students have their own college email account and password to sign in with (username@ifieldcc.co.uk). A short tutorial on accessing Microsoft365 can be found on our website https://www.ifieldcc.w-sussex.sch.uk/page/?title=Microsoft+365&pid=87
Accelerated Reading:
To support our students' reading, Accelerated Reader has changed their licencing which means students are now able to take quizzes at home.
Students can only log in via our school AR link; they should not go to Google and type in 'Log in to AR' as this will bring up a page which looks identical to our log in page, but with a slightly different web address. The ICC AR log in link is here: https://ukhosted97.renlearn.co.uk/2249165/ (letter below sent to parents).
Independent Living Task.
Over the Easter holidays I have set a task to help students (and you) called an independent living task. They might forget to mention it to you. It is some tasks around the home we all have to learn to do. Feel free to adapt them to your own circumstances. The task is attached. Over Easter staff will set some work but this is optional (for you). Click here view tasks.
Support and Mental Health
As part of our on ongoing community support in response to the COVID 19 pandemic and related shutdown, Dr Rob Kirkwood, our independent Mental health and Well-being consultant and Dr Xavier Eloquin, our Educational Psychologist, are offering thirty minute telephone or Zoom consultations.

These consultation slots are available to ICC students and/or parent/carers on a first come, first served basis. These are an opportunity to think about the impact of the current situation upon routines, relationships and family dynamics as we live out life at home.

Significant limitations or changes to our usual daily activities; our closer proximity with others in confined spaces; and dealing with the uncertainty reported in the news, is likely to be impacting the mental health and emotional well-being of each of us and our families.

There are no easy solutions to the current situation, as we all are discovering. What is offered is a thoughtful thirty-minute space in which you can think about and reflect upon ideas and strategies that may help to alleviate some of the particular challenges facing each of us in our own contexts.

Consultations are available each Wednesday with Dr Rob Kirkwood. If you would like to book a slot, please email in advance at rki@ifieldcc.co.uk and he contact you directly.
Consultations are available each Wednesday at the following times: 9:30; 10:15; 11:30; 12:15 with Dr Xavier Eloquin. If you would like to book a slot, please email in advance at drxeloquin@gmail.com who will contact you.
Updated 30/4/2020
WSCC - As part of the response to COVID-19, West Sussex Educational Psychology Service is offering the opportunity for parents, carers and practitioners to speak with an Educational Psychologist about a child or young person during this time when nurseries and schools are closed.
Click here for poster containing information to the service and the link.
Reaching Families are delivering a free workshop via on Zoom looking at how to prepare your child for returning to school, click here to view poster.
SEN strategies for Parents
Coronavirus Guidance Support for Parents
Support
Approaches to Managing stress and tension during the Coronavirus pandemic
West Sussex Autism and Social Communications Team - Working at home with your child
Overview to the Coronavirus (COVID-19) can be found on the NHS website
Stay at home guidance from GOV.UK
Guidance on social distancing and for vulnerable people