Important documents:
ICC risk assessment return to school (October 2020) click here to view
Public Health England have produced a letter for schools to distribute to parents which explains when a person requires a coronavirus test and what the symptoms of coronavirus are. You can view the letter here
Track and Trace Privacy Notice, click here to view
Visitors, please see see the below documents for before any visit to ICC.
Covid-10 Visitor Health Form
Visitor Risk Assessment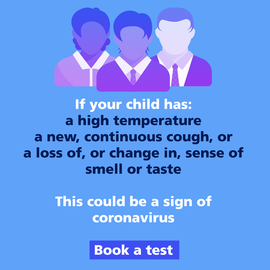 Updates:
Free School Meals for eligible students - See letter below dated 08/01/2021
Only childcare groups are to return to school from the 5th January. If you have any queries regarding childcare, please email childcare@ifieldcc.co.uk
All year groups are to remote learn from MS Teams until further notice. If you need help locating remote learning on MS Teams, please click here.
We have another allocation of government laptops coming. If access to technology for learning is difficult for your child, please contact their progress leader and we will distribute the laptops as fairly as we can, based on need. We have already distributed a large number of devices - a combination of those supplied by the government and many that we bought to meet this need.
Letters to Parents and Carers
08/01/2021 Free School Provision up to February half term, Letter
06/01/2021 - Remote Learning Letter
04/01/2021 - Please see Remote Learning page on how to access MS Teams, click here
31/12/2020 Updated arrangements for the start of term, January 2021, Letter
18/12/2020 Arrangements for start of term, January 2021. Letter
08/12/2020 School finishes Thursday 17th December at 1pm, Letter
03/12/2020 Year 10 are to return to an 8.30 start from Monday 7th December. Letter
19/11/2020 Partial school closure - with effect from Friday 20th November, click here to view a copy of the letter.
19/11/2020 Water Fountains: As part of the recent guidelines with regard to Covid-19, schools have been told that they need to shut off water fountains due to the risk of infection. Please be aware that this means that students will need to bring sufficient water to school to last a whole day or bottled water can be purchased from the canteen.
05/11/2020 A revised letter has been emailed home today with the new guidance says that students will now be expected to wear masks in corridors and enclosed spaces unless eating or if there is a good reason not to. We will introduce this expectation from Monday 9th November. Click here to view letter.
04/11/2020 Wearing of masks outside of lessons. To view click here.
02/11/2020 Contingency plan if needed for partial closure. To view click here.
05/10/2020 Teaching with windows open during autumn and winter, students wearing coats and the ordering of a warm black v-neck jumper. Click here to view letter, click here to view photo of jumper.
02/10/2020 Hand sanitising. Click here to view.
01/10/2020 autumn and winter arrangements narrated video from Mr Corbett, Headteacher can be viewed by clicking here.
30/09/2020 Changes to lunches to commence from this Friday 2nd October due to predicted bad weather. Click here to view.
25/09/2020 Changes to the length of lunches. Click here to view.
Free School Meals (FSM)
When FSM are being covered by Food Parcels. (08/01/2021)
The guidance states:
'Schools should provide free school meal support to pupils who are eligible for benefits related free school meals, including to those pupils who are not attending school. Extra funding will be provided to support schools to provide food parcels or meals to eligible children.'
As most of our FSM students are now working from home, the school's catering services, BAM Catering, will be preparing food parcels for eligible students that can be collected on a weekly basis from the main reception area starting from next week. In the event that a family is self-isolating, they can arrange for someone else to collect these parcels on their behalf.
Food parcels include:
1 x 2 pints of milk
2 x jacket Potatoes
2 x tomatoes
1 x Cucumber
2 x Satsumas
2 x Apples
1 x Banana
1 x Loaf of Bread or 1x Pack of wraps
6 x cheese Slices
110g of Tuna or 125g of Ham
3 x Yoghurts
200g of Sweet corn
6 Eggs
200g of baked beans
If students have a food intolerance/allergy to any of the above, please could you contact the Canteen Manager, Mrs Glover, on vglover@bam.com
When FSM are being covered by Vouchers.
The Local Authority, on behalf of the Government, has launched its scheme for free school meals during the two week Christmas break. The supplier we are using for this cycle is called Wonde. The added benefit of using this supplier is that your voucher redeem details will be sent to both your mobile phone and/or your email address. A total voucher value of £30 per student has been ordered and you can choose to generate your voucher for any of the following supermarkets:
Asda
Sainsbury's
Tesco
Morrisons
McColl's
Iceland
Aldi
Waitrose
If you select Asda or Morrisons as your retailer, you will need to wait until Wonde email you when the voucher is ready. All other retailers give you instant access to your voucher.

Below are links to a guide to information regarding redeeming your vouchers and a parent FAQ.
https://help.schoolvouchers.com/hc/en-gb/articles/360015110178-How-to-access-your-voucher-step-by-step-instructions-
https://help.schoolvouchers.com/hc/en-gb
Vouchers will be sent electronically on Monday 14th December to one parent/carer who is listed as priority one on our school records. Please could you let us know if you have not received your voucher redeem email or text message from Wonde by 15th December. Before contacting us, please can you check with the other parent/carers who also may be listed with us as a priority one, and check your spam.
If you need to contact us to let us know you have not received you email or text message, please email the school at office@ifieldcc.co.uk . If you have any issues once you have received your email/text message, please refer to the links above before contacting Wonde direct.
Parents/Carers were informed by email on Thursday 10th December.
SEN Support with Remote Learning
If you or your child are having difficulties with the work set and would like some support please email the learning support team at TASupport@ifieldcc.co.uk
If anyone has any questions regarding this they are asked to make contact with Rob Corbett, Headteacher on email rct@ifieldcc.co.uk. Please contact the school if you have any queries on 01293 420500 between 8am and 4pm.
Our school front office and switchboard are open from 8am to 4pm daily. Staff can be emailed directly, for staff email addresses click here, alternatively you may email the school using office@ifieldcc.co.uk
Website links and resources
Overview to the Coronavirus (COVID-19) can be found on the NHS website
Stay at home guidance from GOV.UK
Guidance on social distancing and for vulnerable people