BAM provide the catering at ICC in the hall at breakfast, break and lunch times. They offer students a wide choice of hot and cold food. We also offer a mobile food unit in the Atrium that caters for hot snacks and drinks during break and lunchtimes.
Breakfast (07:45-08:15): A selection of breakfast cereals, toast, baked beans on toast, bacon/egg rolls, full english breakfast and fruit.
Break (10:55-11:15am): A selection of hot and cold hand held snacks are available, from sandwiches, baguettes, fruit and a daily choice from the hot section.
Lunch (Year7/9 -12:15 to 12:45 & Year 8/10/11/ 1:15 to 1:45): A selection of hot and cold meals are available, sandwiches, baguettes, pasta, jacket potatoes with a variety of fillings, fruit, puddings and a choice from the daily menu.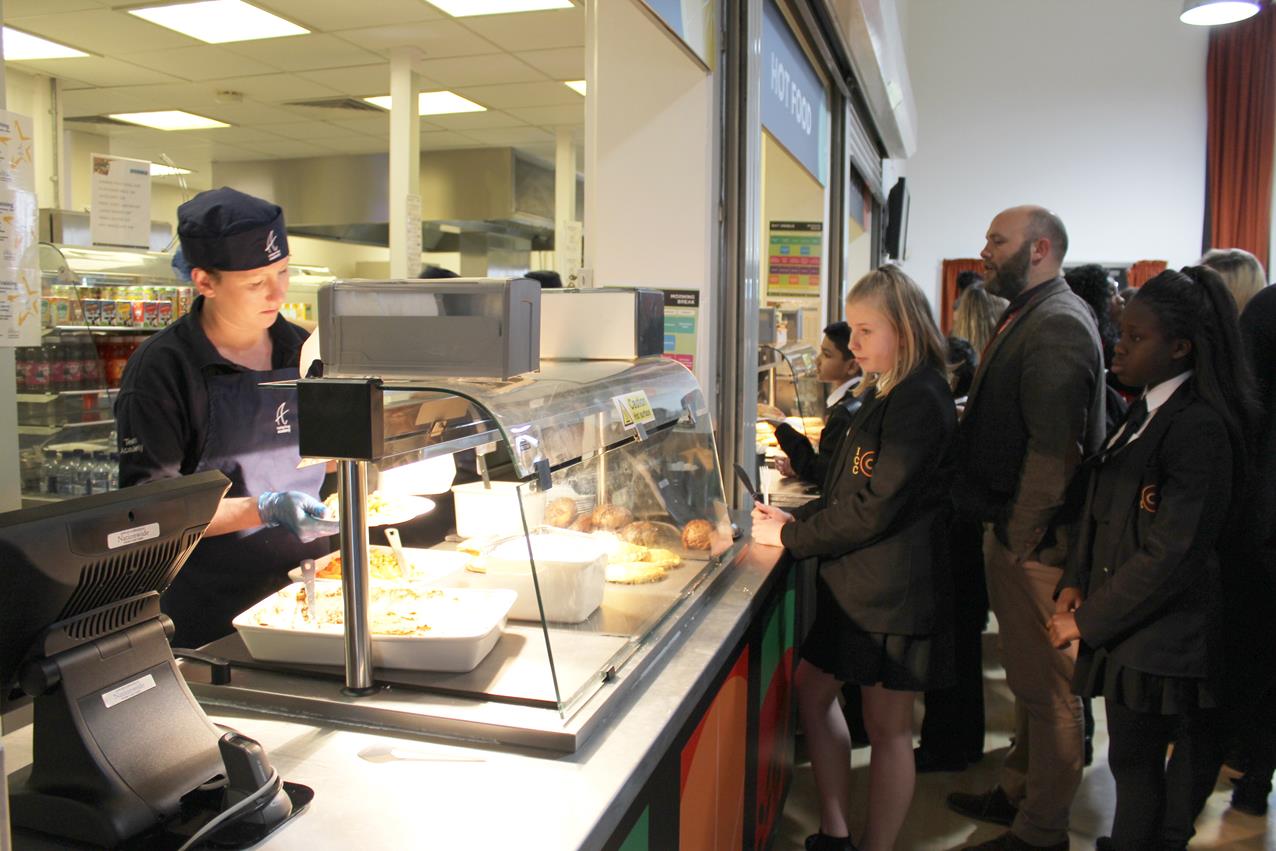 Menus
To view the current menus, please click on the relevant menu for the week you require.
Menu 1 (6th, & 27th September, 18th October, 15th November and 6th December)
Menu 2 (13th September, 4th October, 1st & 22nd November and 13th December)
Menu 3 (20th September, 11th October, 8th & 29th November)
The meat option which most of the time is halal, but this can change due to supplier availability.
There are vegetarian options available on daily basis and selection of grab & go items, which again can be either halal or vegetarian.
The catering staff have information available on daily basis and can help students with their choice.
Cashless Catering
Our school restaurant and mobile unit is biometric, so your child's fingerprint is all that is required to pay for their meals, snacks and drinks.
How does it work
When students start at ICC parents/carers will be provided with details on how to register to make on-line payments through ParentPay https://www.parentpay.com/ . Students have the option of adding money to their accounts by using the terminal by the mobile unit.
Students will have their fingerprint taken for identification when they join ICC. When the child places his/her finger on the scanner, the software matches their fingerprint with the unique digital signature held in the database.
As parents, you will also be able to monitor the amount your child is spending on a daily basis. This ensures all transactions are fast, efficient and personal to the individual student. This also eliminates the need for students to carry money around with them.
If you have any other questions or concerns, call on 01293 543087


To make a online Payment
Students entitled to free school meals
To view information on free school meals, who to contact and how to apply, please click here